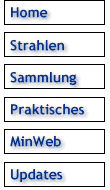 Quartz and Aquamarine; China
WOW! Light-blue Aquamarine tabbys on tabular Quartz. Really neat combination specimen from the Bao Feng Wu Mine in the Sichuan Province of China. Measures 2" by 1.5". Price $65 The Mineral Gallery



Letzte Änderung dieser Seite: 26.12.2008 01:14:09
E-Mail an den Webmaster
© Copyright 2018 by Olivier Roth, Switzerland. Alle Rechte vorbehalten.